About Us

The President, Godwin Ogbebor, is a Fellow of Society and Human Management. He has been to 25 countries of Africa in a "Participatory Observer" role, spanning 17 years. His ability to have lived and survived under extreme conditions with the poorest in the rural areas of the rain-forest, the Sahara desert and the Creek-waters of West and Central Africa, has made him an expert on principal courses of poverty and simple solutions with life-transforming effects. His practical experience amongst this people, who are of no political significance to their various leaders, is a practical solution, devoured of any political sentiment.
Professor S. E. Orobator, schooled in Russia and England. He is currently a professor of political sience and conflict resolution UNIBEN. He has written several books on political conflicts and crises in Africa (their origin, development and management). Reading his books on possible resolutions of conflicts will justify his expert insight. Professor Lawrence Atsegbua, studied and lived in England and America, until a few years ago. His love for humanity, compelled him to come back to Africa, in defence of human right, justice and nation building. He is a professor of law.
The Vice-President, Helga Steuer is a lectural with 35 years of teaching experience. She majored in theology,English and History . She is currently working with GBF Bad Kissingen, Germany. She was married to an African man for ten years. She has visited the continent two times and she is supporting the orphanage home in Nigeria and the widows of Eritrea.
The treasurer, Erik Kirton, is a citizen of the U.S. with residence and business interest in Europe. A Graphik designer and music producer. He has helped many Africans with his computer skills and arranged songs and beats for "mother of all nations" a musical group based in Germany. He is one of the skill hunters, engaging people to make a trip to Africa for knowledge transfer.
The secretry, Christiane Ogbebor, is the wife of our president Mr. Godwin Ogbebor. She is a proffessional office clerk with about 14 years experience. We are confident that her proffessional experience will be of immens value and assistance to AUFAD e.V. She is the perfect person to assist the President because of her organisational abilities.
Pictures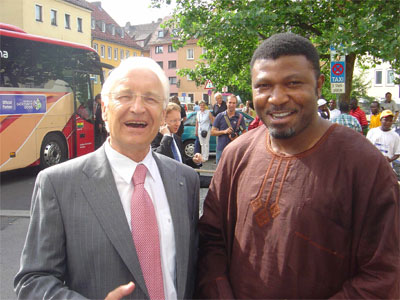 The Ministerpresident of Bayern, Germany.  Dr. Edmund Stoiber and the president of AUFAD e.V. Mr. Godwin Ogbebor.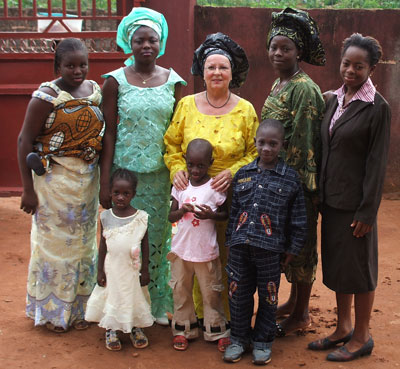 The vice-president Ms. Helga Steuer spreading love to the women and children of Africa.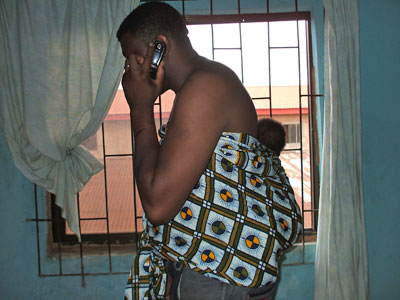 The president Godwin Ogbebor displaying the relationship between technology and culture.